Whether you make glass beads or are a lover of beads in general this article is for you. Gain a bit of insight into the process of how glass beads are made.
There are two different types of glass; soda lime glass (aka soft glass) and borosciliate (aka boro). Today I am going to focus on soda lime glass and give you a brief overview of the materials used to apply all those decorations to a bead.
Stringers
Stringers from Ema K's collection
Love of OM bead set by Ema Kilroy

A lampworker will ball up the glass in the flame and then pull it out to a very fine thin string of glass which is referred to as a stringer. Stringers can be used to "draw" a design onto a bead. My OM bead is a good example of how a black stringer was used to draw the OM symbol and designs.
Murrini
Murrini, also known as Millefori (millefori usually has a floral design), are decorative slices made up of many layers of glass in a variety of patterns. Mallory Hoffman of Rosebud Lampwork makes her own murrini and sells them in her Etsy shop. As a lampworker builds the layers of the murrini they end up with a large wad of glass which then needs to be heated, and carefully (so the pattern is not lost) drawn down to create a manageable size rod. The rod is then cut into slices to create the decorative murrini. You can see how I used murrini in the heart bead.
 Twisties
Twisties from Ema K's handmade collection
 Mermaid Bead by Carolyn Collins

Twisties are made by layering different colors of glass, heating up these layers and pulling the glass out and twisting it at the same time. Carolyn Collins of Sparkling Water Studios on Etsy makes her own twisties to add depth to the flowing hair on her beautiful mermaid beads.
Shards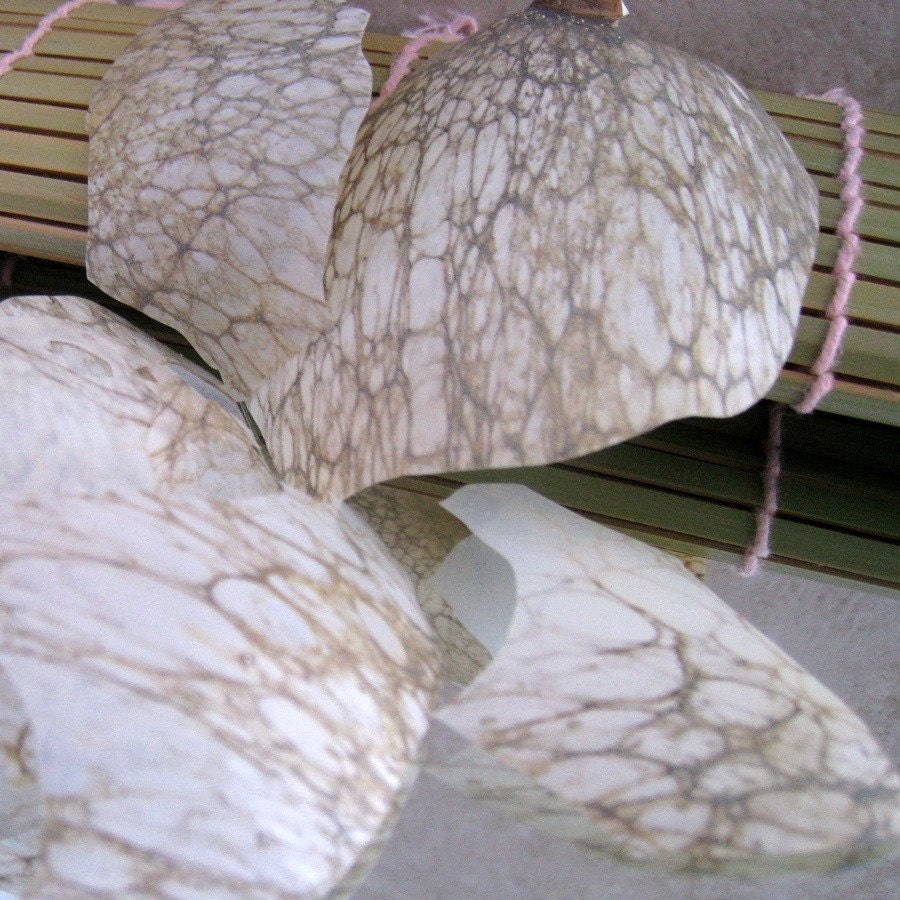 Glass Shards by Mallory Hoffman
Shards are exactly what they sound like, thin pieces of uneven broken glass. In a nutshell lampworkers use a hollow stainless steel, apply molten glass, blow into the hollow mandrel to blow up the glass and then break it.  Our own Mallory Hoffman makes these shards which are available in her Etsy shop. Our Glass Team member Judith Billig shows a beautiful application of the glass shard in her Sedona Focal.
Frit
Frit images from Valcoxfrit.com 
Hollow frit beads by Louise Mehaffey
Frit basically is chunks of glass applied to beads. It can made or purchased. Frit can purchased in large or small bits of glass and can found in a variety of color mixes. The Glass Team's Louise Mehaffey shows a beautiful use of frit on her stunning hollow beads. 
Enamels
Enamel image found on the internet
Peaceful Tree of Life by Ema Kilroy 
Enamels are fine powders of glass. Enamel particles are easily airborne and great caution should be taken when using them. You do not want to inhale glass particles. Excellent ventilation and a great quality facial mask is a must when working with enamels. Now having said that, I must admit that I love the look that is achieved when using enamels. I think it brings a softness to the glass.  This Peaceful Tree of Life bead shows the effect of the fine powder.
Silvered Glass
Kalypso Pearls of Magenta by Ema Kilroy
In my opinion silvered glass is scrumptious once is it is applied to a bead. It is a very expensive glass which has silver in it. I'm not exactly sure how it is made but I know I love silver glass. Silvered glass creates a spectacular array of color and shimmer on beads when applied properly. I say when it is applied properly because some silvered glasses can be difficult to work with, in that they don't always do what you expect them to do. But when they work they are simply stunning! The same silvered glass can be worked in different ways to give a range of effects on beads. One of my favorite silvered glasses is Kalypso. I have created a whole series of beads, known as Kalypso Pearls, around this glass. Here are a couple of ways I have used Kalypso and you can see that completely different looks can be achieved with the same glass.
As you can see there are many options available to choose from when decorating a bead. All of the items are readily available for purchase on the internet. One of the most important factors to take into consideration if you are making glass beads is the COE or Coefficient of Expansion, which means the rate at which the glass expands and contracts as it cools. Soda Lime glass has a COE of 104. When working glass you want to make sure any other glass pieces applied to the bead are of the same COE or your piece could easily crack or explode as it cools. It is important that all the glasses cool at the same rate to avoid this fiasco.
I hope you have enjoyed this brief overview of how a glass bead comes into being. I will be adding additional details to these techniques in my own blog. I hope you will stop by and visit my blog Ema K designs.
You can find more of my work on the web:
and friend me here on Artisan Whimsy: